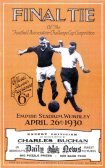 Programme Promotions was formed by a then teenage David Allen in the mid 1980's operating out of a spare bedroom. Trading was initially a stall at the now defunct Charing Cross Collectors market in Central London.
A bi-monthly mail order catalogue was first produced in 1986, a small black and white A5 effort - a far cry from today's full colour A4 brochure!
The size of stock quickly grew out of hand and business premises to house the rapidly expanding operation were acquired in South West London in 1990.
The late 1980's and early 1990s were the golden years of 'catalogue producing dealers' with print runs of well into four figures common place amongst the major players. Similarly, programme fairs were also well attended with well over 1,500 customers at the showpiece events particularly the 'big one' in the first week of June at the Royal National Hotel, Central London - an event that still take place today! See Programme fairs for more details.
The launch of the Premier League in 1992 and the coverage provided by Sky TV had a dramatic effect on the business. The raised profile of the game saw an explosion of interest in its history and heritage. However, with so many matches arranged for live TV on Sundays, programme fairs became increasingly difficult to schedule and with the counter attraction of watching a game at home, attendances at these events lapsed into terminal decline.
Then the Internet appeared! Without a doubt the biggest change in the football programme business. The need for printed catalogues diminished as an increasing number of collectors sought their requirements online browsing dealers' websites or looking at auction sites such as ebay.
Programme Promotions quickly evolved and footballprogrammes.com was launched in March 2000 to supplement the mail order operation.
By this time we had become distributors of all major big programmes for UEFA, FIFA and the FA supplying other traders and collectors direct. www.footballprogrammes.com/onlineshop was launched in early 2001 enabling customers to pre-order big match programmes and pay by credit card online for pre-match delivery.
To enable us to continue the level of service we had provided previously, an additional warehouse was acquired in Buckinghamshire. This houses all the modern big match programmes sold in the onlineshop and has the capacity to accommodate tens of thousands more in the years to come.
The longstanding success of any business is measured by its ability to change and adapt to the needs of its customers. It would be foolish to ignore the impact that ebay and paypal have had on programme collecting. Indeed we welcome the potential new customers, particularly from overseas they introduce to the hobby. Our ebay shop footballprogrammes_warehouse runs in conjunction with our other outlets offering our best selling programmes and an opportunity to showcase our current ebay auction activity.
We are happy to take paypal as payment for any purchase on the footballprogrammes.com website in addition to the other methods of payment detailed on the Ordering Information page.
Please have a good look around the website. We trust you find footballprogrammes.com of interest and look forward to fulfilling your requirements.
David, Elaine, Laura, Paul & Simon
the footballprogrammes.com team