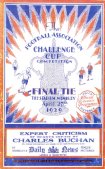 We are always interested in acquiring new stock and will offer the very best cash prices possible particularly for pre-war and pre 1955 programmes and memorabilia. We will of course purchase your post 1955 programmes too if they form part of a complete collection including older material.
We are constantly travelling the UK buying collections and would be delighted to evaluate yours for potential purchase for an agreed price or alternatively enter your collection into one of our forthcoming auctions.
If you have programmes for disposal please send a list or a broad outline of what you have and we will be delighted to evaluate and advise accordingly. Please email info@footballprogrammes.com or phone 07831 872359 to discuss a range options.